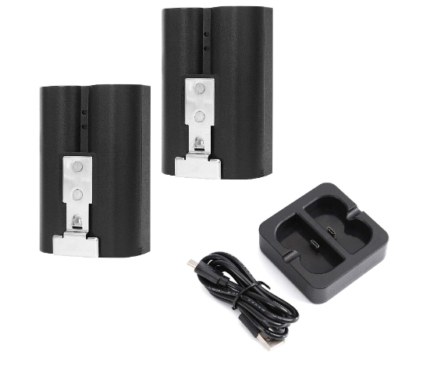 【Charge Anywhere】Compatible with both Micro USB and Type-C ports, you can charge 2 Ring batteries quickly and simultaneously using your laptop, portable charger, car charger, or wall charger. Each battery comes with a Micro USB cable for added convenience.

🔋【2-Pack and Charging Station】This package includes 2 replacement batteries and a USB charging station that works with Ring Video Doorbell, Peephole Cam, Stick Up Cam Battery (2nd and 3rd Gen), Spotlight Cam Battery, and Solar Floodlight. The charging station features a quick-release tab for easy battery removal.

. 🔋【Dual Charging Docks】Charge up to 2 batteries at once with the dual charging docks. LED lights indicate the charging status of both batteries, and you can easily push the battery down into the charging slot until the LED light indicates the charge level.

🔋【Safe and Reliable】Built-in multiple circuit protection, including over-charging, short-circuit, high-temperature, and surge protection, ensures safe charging. The fire-resistant construction adds an extra layer of safety.

🔋【What You Get】In addition to the 2 replacement batteries and dual charging docks, you'll also receive a 24-month manufacturer warranty and 24-hour customer service for added peace of mind.